Lunch & Dinner Set Promo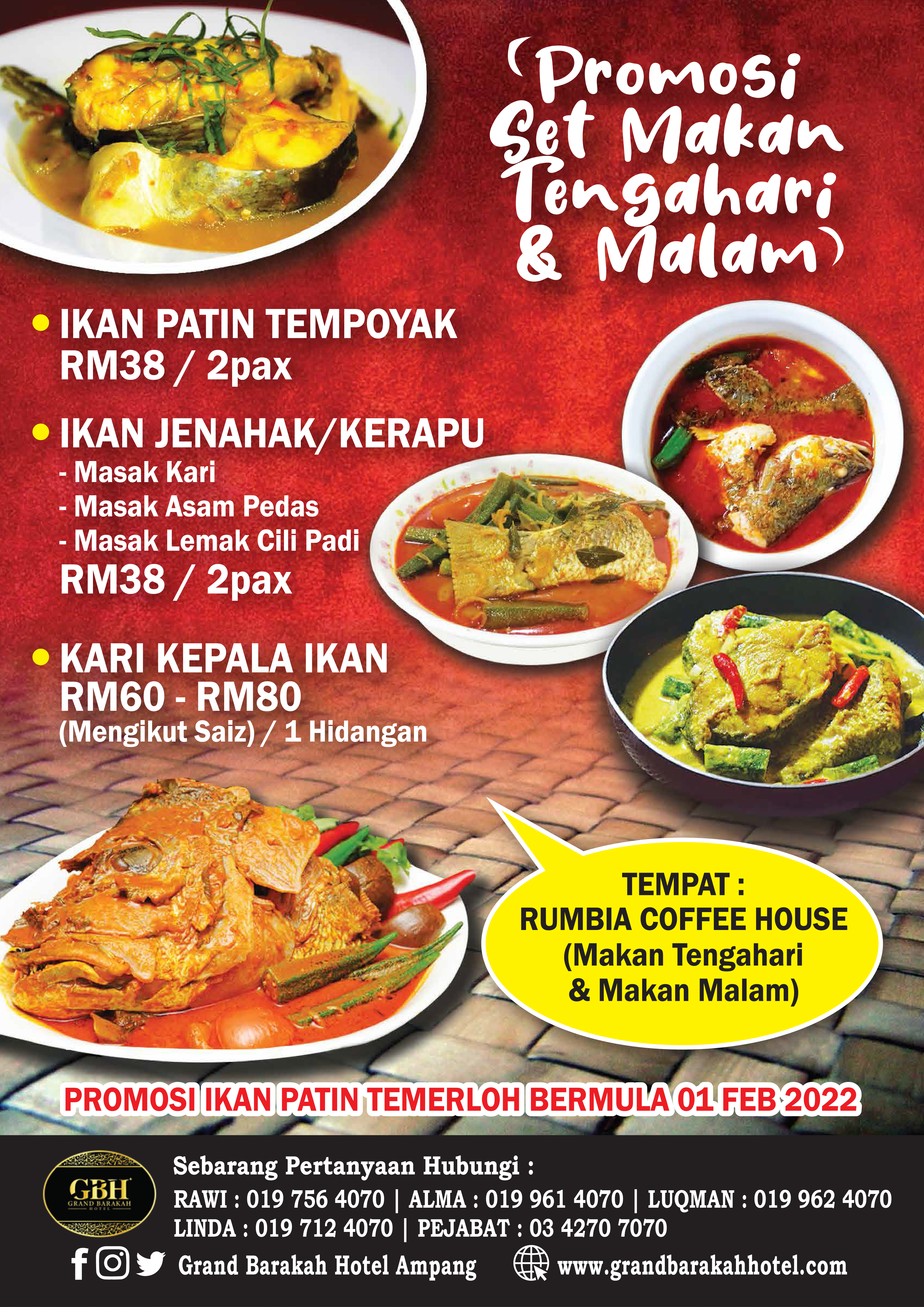 Contact us for more information:
Rawi: 019 756 4070
Alma: 019 961 4070
Luqman: 019 962 4070
Linda: 019 712 4070
Office: 03 4270 7070
Lunch & Dinner Set Meals Promotion
Rumbia Coffee House @ Grand Barakah Hotel
10.00 AM to 10.00 PM
Attention to the fish fans...
what if we told you that you don't need to travel all the way to Pahang to eat Temerloh Silver Catfish ("Ikan Patin Temerloh")? At Rumbia Coffee House Grand Barakah Hotel we are serving delicious mum's heritage food with a variety of fish dishes.
Starting 1st February we are serving the famous Hajjah Masarah's "Ikan Patin Temerloh" (Temerloh Silver Catfish) recipe that makes you wonder if you are eating directly at Temerloh without having to travel far.
Come and try our variety of promotional lunch or dinner set meals. We have prepared a menu that's sure finger-licking good if you love to eat fish:
Tempoyak Ikan Patin (Silver Catfish cooked in fermented durian)
RM 38 for 2 pax
Ikan Jenahak / Kerapu (Golden Snapper/Grouper)
With a choice of cooked in
Curry
Sour and Spicy stew ("asam pedas")
Bird's eye chilli coconut gravy ("lemak cili padi")
RM 38 for 2 pax
Fish Head Curry
Between RM 60 - RM 80 (Depending on the size) for 1 serving
#grandbarakahhotel #grandbarakah #hotel #kualalumpur #selangor #ampang #makantengahari #lunch #tengahari #makanmalam #dinner #malam #rumbiacoffeehouse #staycation #makan #ikanpatintempoyak #ikan #patin #tempoyak #ikanjenahak #ikankerapu #masakkari #asampedas #masaklemakcilipadi #karikepalaikan